[Some Spoilers]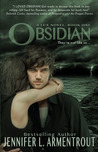 Obsidian by Jennifer L. Armentrout
My rating: 5 of 5 stars
Every once in awhile, one has the great fortune of coming across a book (or a book series) that blows your mind in the best possible way. These books have super compelling characters and interesting plots filled with twists and turns that keep you engaged. You fall in love so quickly that you devour these books like cookies and creme ice cream on a hot August day. For me, Obsidian is one of those jewels! I've fallen head over heels with the Lux series and I zealously add Armentrout to my fave authors list. With incredible humor, uber likable characters, sci-fi, mystery, and delicious sexual tension, this book earns all 5 stars!
We begin with Katy Swartz, a 17 year old Senior from Gainesville, FL who has just moved to a very, very small town in West Virginia. She and her Mom (a nurse) are still grieving the loss of Katy's dad a few years ago, and they make this move in order to have a new start. Her Mom works a lot, so Katy is left alone a lot of the time. But lucky for her, the next door neighbors happen to be a boy and a girl right around her age, Daemon and Dee Black. While Dee seems very friendly, Daemon is nothing short of a jerk who seems hell bent on stifling any relationship between Katy and Dee. When she uncovers the Blacks' secrets, Katy becomes a part of a conflict involving two alien species and the U.S. Department of Defense. How does Katy deal with being in the midst of this intrigue on top of the obvious sizzle between her and Daemon?
Right away, I LOVE this story! I feel like Katy and I are kindred spirits: she's witty, a book blogger, gardener, and generally a good girl. I love the underlying humor in Katy's thoughts and observations. For example:
"But mingling with kids I'd never met wasn't my thing. I'd rather read a book and stalk my blog comments." LOL!
And then there's Daemon Black…I think Katy says it best with the following:
"Beautiful face. Beautiful body. Horrible attitude. It was the holy trinity of hot boys." SO TRUE. And this is Daemon to a tee. He is FINE, tall, built, ripped, green eyes, lips, shirtless, etc. But Daemon is an asshole!
These two having *amazing* banter, and it's great to watch their tet a tet…but as Katy and Daemon get to know one another, a whole host of mysterious craziness is going on in the background!
Some other comments:
1. There are several moments when I can't help but to laugh like a psycho! For example:
"I thought people in small towns were supposed to be nice, not act like the son of Satan." Bwahahahahahaha!
OR
K: "I sort of felt sorry for her [Dee], being that she was related to such a tool." lolololololol
OR
"The day my internet was hooked up was better than having a hot guy check out my butt and ask for my phone number." Bwahahahahahaha! See, funny.
OR
"Lesa danced like a double jointed hooker… " Bwahahahahahaha!
2. I love Dee! She's such a sweetheart, real friendly and funny…"just really… Alive."
3. D: "What kind of books do you read?"
K: "All different kinds. Mainly I prefer the paranormal stuff." Ummm, why is Katy living my life?!
4. I feel so bad for Katy during lunch on first day! How mortifying that Daemon and Ash would treat her like that, publicly humiliate her….
But I love that Katy stands up for herself…Dumping her lunch all over Daemon and Ash, Bwahahaha! Team Katy Forever!
5. Daemon can be really sweet when he wants to be. For example:
D: "I won't hurt you Kat. I could never hurt you." Wow
But, with that said, Katy and Daemon's relationship is pretty tumultuous. There are several moments on intense heat:
"Moving unbelievably fast, I was on my back and he was above me in a flash… Using his hands, he lowered himself slowly. There wasn't an inch of space between our bodies…" UNF!
OR
The first kiss…
" his hands were on my hips and he lifted me up as if I were made of air. My legs wrapped around his waist and we moved to the right, knocking into a floor lamp…we were give devouring one another, drowning in each other. We'd been building up to this for months, and oh my God was it worth the wait. And I wanted more." LAWD HAVE MERCY!
These two also give each other a hard time:
"Daemon followed me home after school. Literally… I'd braje-checked him several times. He'd blown his horn. It made me feel all warm and fuzzy inside." LOLOLOLOLOLOL
And Daemon can still be such a ridiculous asshole…like after their first kiss:
"The light went out. His jaw hardened. A mask slipped over his face. The arrogant half smile I disliked so much tipped up one corner of his swollen lips… " UGH!
6. The Luxen (People made if light…Who can stop time…And shapeshift) vs. The Arum (children of the shadows, out to destroy the light…) But beyond this intergalactic conflict which has now reached Earth, I'm curious about relationship between the Luxen and DOD. Is seems a bit questionable…random check ins and tracking, etc. Does this mean there aren't any Luxen in Europe, Africa, etc.?
7. In the end, what exactly is it that triggers Daemon's declaration that he likes Katy?
K: "You gave spent months being the biggest jerk to me. You don't get to decide to like me one day and think I will forget all of that. I want someone to care for me like my dad cared for my mom. And you aren't him."
But, it seems Daemon is ready to meet the challenge of convincing Katy to be with him…
Obsidian kind of reminds of Twilight, Return to Witch Mountain, and Roswell…three stories which I LOVE! By the time I've finished Obsidian, I have so many questions about the relationships between the Luxen, Arum, and DOD and how Katy and Daemon fit in. I'm totally hooked on the Lux Series, and I guarantee that Obsidian will pull you in within the first chapter. This is an absolute MUSTREAD!