Heartbreak, hope, and body-quaking swoons! Read our review of Alisha Rai's upcoming, MUSTREAD romance Hate to Want You, and pre-order today.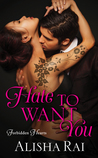 Hate to Want You by Alisha Rai
My rating: 5 of 5 stars

[For Mature Audiences; Some Spoilers]
We all have a friend who is a go-to for book recommendations. Mine is Cosmo. She and I are always on the same wavelength, and I'll read anything she suggests. Earlier this week, Cosmo was on Twitter all atwitter (see what I did there 😉 ) about a book she was currently devouring. When she came up for air, she immediately sent the title of the novel my way: Hate to Want You by Alisha Rai. And as soon as I got the review copy in my hands (THANK YOU Alisha and Avon Romance), I was done for.
I started reading at 7pm, and couldn't put it down until I finished at 2am…mind you, this is a 350-page book! But goodness, this novel was so well written. The story just flowed and I found myself inhaling it, gorging myself on Alisha's words as the passionate tale unfolded. There was laughter, heartbreak, hope, and swoons. So many swoons. Tummy-fluttering, body-quaking swoons. Hate to Want You was perfection.
And the cherry on this exquisite sundae? Hate to Want You features people of color in meaningful roles. Let me tell you, it is so refreshing to see myself and people I know represented in romance, dealing with heartache and love, having glorious sex, just as we do in real life. Oh yes, I 100% recommend this book to all romance lovers!
Nicholas Chandler and Livvy Kane HATE each other. This hasn't stopped them from meeting once a year for the last nine years for an ALL NIGHT LONG sex marathon. So, clearly, things are complicated, made even more so because of a literal family feud.
Nicholas and Livvy grow up together. Their grandfathers are best friends, business partners, and co-founders of one of the most successful grocery store chains in the U.S. In fact, Nicholas and Livvy's oldest brother Paul are being groomed to take over the family business. Unfortunately, a terrible accident changes everything. Nicholas and Livvy each lose a parent, the Kanes lose their shares of the business, then Nicholas and Livvy are forced apart by the lingering scandal and animosity between their families.
Ten years pass, and except for their annual meeting, Nicholas and Livvy are out of each other's lives. Nick assumes the position he's been trained for, becoming a powerplayer in his family's business. Livvy lives the life of a nomad, traveling from place to place, honing her skills as an artist, and avoiding home. However, a family emergency brings Livvy back to her hometown… and when she and Nick are within the same proximity, they cannot stay away from one another.
Both are angry and resentful, yet the chemistry between them is red-hot fire. And now that Nicholas and Livvy are in the same place, their usual hit it and quit it pattern just won't do. Soon, their repeated encounters open opportunities to share their truths. Can Nick and Livvy heal their relationship and, perhaps, the rift between their families too?
There's so much I adore about this book, and the characterization is at the top of the list. Livvy and Nick are the romantic heroes I love. Livvy is real. She knows who she is and would never apologize it…that doesn't mean Livvy doesn't struggle. She repeatedly has to remind herself to treat herself with compassion and care. But as I've said, this struggle is honest. Things are even more difficult because of a very strained relationship with her mother and yes, with Nick.
Nick exercises caution in all things, rigid with self-control, and deeply loyal to his family. Most of this falls by the wayside when it comes to Livvy. She upsets all of his neat plans without even trying, and if Nick's being truthful, he loves it.
Honestly, I love it too, because the sexy times that result are HAWT:
"I shouldn't let you have it," he rumbled above her. "I should punish you for making me want you. For making me need you."
"If you punish me, you're punishing yourself."
There was a moment of silence, their loud breaths syncing together. His big hands settled on her hips, and he flipped her over. His face was strained and covered with sweat. He yanked her legs wide and moved between them, his fat cock shoving in deep enough to make her scream. She strained underneath him.
"Plea—"
"Shh." His cock sank inside her again and he rested his hands on either side of her head. "No more begging now."

…

"Ask me."
There was a steely command in her voice. He stood poised on some precipice, one where he handed her all the power, where she turned his ordered world into chaos, and he couldn't stop. "Suck my dick," he said, his voice guttural.
Those red-slicked lips grinned, and she rubbed her cheek affectionately over the bulge of his cock.
"Whatever you want, sir." She licked the underside, tracing the vein.
"I like doing this too,"she whispered, her breath a puff of air on his cock head. "I'd always get so wet when I sucked your cock, remember?" God, he did remember…
She pressed dainty, tiny kisses down the shaft.
"Pull my hair."
He exhaled. "Are you sure?"
"You know I like it rough."
"I don't want to feel like I'm using you again."
"Maybe I want to be used." Her dark eyes flicked up at him. "Maybe I get off on that."

…

"The things I want to do to you," he murmured. The look she cast him was sizzling.
"What do you want to do to me?"
He took one step, then another, backing her smaller body up. He raised their joined hands and placed them against the wall of the elevator.
"Strip you. Lick you. Fuck you."

…

"Can I tie you up, Livvy?"
Her eyes widened. "Uh, with the tie?"
"Yes."
"Yes, yes, yes." She nodded for emphasis. "A million times yes."
Well, that confirmed his suspicion she had some sort of weird fetish with his ties. He bit the inside of his cheek and raised her hands above her head. Then he looped the tie around both wrists and tied it in a knot. She tested the material, her expression growing more heated as she realized she was caught.
*FANS FACE*KEELS OVER*
Goodness, from the first pages of the book, I just wish Livvy and Nick can be together. But there are some very real obstacles in their, primarily motivated by family (AKA Nick's horrid father). Yes, the past is in the past and they're both adults now, but how can Livvy and Nick really trust one another? Perhaps the wounds are just too deep to heal…
No spoilers, but there's an incredibly fulfilling HEA, and the path there is deliciously angsty, with the most yummy sexual tension. And when Livvy and Nick finally give in, it's incandescent (as you've read). With that said, Livvy and Nick's relationship also opens up opportunities for healing among their friends and family.
Speaking of, Hate to Want You has really great secondary characters. I'm so looking forward to book 2 (Wrong to Need You), which follows Sadia (Livvy's sister-in-law) and Jackson (Livvy's twin brother). I'm also hoping Eve (Nick's younger sister) will get a book too. Lord knows she deserves happiness after dealing with her horrible father.
As I mention earlier, I also enjoy how the novel prominently features women of color. For example, Livvy is half-Japanese American, half Hawaiian; Sadia's heritage is Pakistani Muslim. They're brown and curvy, just like me, and it's fabulous to have their friendship be so central.
I could go on and on, but suffices to say, Hate to Want You is SO MUSTREAD. This is one book I'm desperate to have on my bookshelf!
Add it to your Goodreads TBR list and then pre-order on Amazon, Barnes & Noble, or iBooks. When July 25 hits, you'll want to dive in ASAP!
Alisha Rai, you are a treasure, I can't wait to read all the things from you. BRAVA!
Many thanks to the author and publisher for an advanced review copy.