When Jen learns the truth about the Coombses, it drives a major wedge between her and Desna. Meanwhile, Roller tries to make his "Escape" from his captor. Full recap of this week's Claws by @luvthispayne.
Hey, Hey, Hey everybody. We are back with after another jam packed Sunday! There's so much to cover so let's get into it.


Our episode opens with Desna giving herself a pep talk, practice run on what she's going to say to Clay (Uncle Daddy) to convince him to allow her to leave the money laundering business and focus on her new shop in Glint. Interestingly enough she has the bright idea that Toby would be the perfect person to run the shop! I told y'all the girl is a mastermind when she wants to be. If you're thinking, who the hell is Toby, I'll tell you.
Toby is the pretty little boy toy Uncle Daddy has been keeping around to fulfill his more eccentric and unconventional desires. You might recall in Episode 4, he was the pretty perky soloist that spoke of getting new titties. We ain't seem them titties yet though! Are they on lay-away? Lemme mind my business. Anyway, in this episode we learn that he does more than just perform water ballet for Uncle Daddy and that he's fearful of being replaced. Desna uses Toby's fear to convince him that by stepping up and running the salon and the money laundering, Uncle Daddy would have respect for him that exceeds beyond what he's able to do in the bedroom. Toby buys it, and just like that, he's in! Clever, clever Desna.
Before Desna has her little talk with Uncle Daddy and Toby in real life, Dean comes barging into her room butt booty ass naked. LOL! He is preparing for his show in South Beach, and y'all I didn't think this was what he meant. I thought he was going to do like the body-building flexing of his muscles and lift weights or something. But okay. Dean is all does this skin make my butt look big and Desna just really wants him to put on some clothes. But since we had to see it anyway, I see you Dean with them firm booty cheeks in that rich chocolatey color. Shout out to your trainer. Bounce a quarter off yo booty boo!
So not only is Dean in Desna's room stark nude, but he then tells his sister that he doesn't need her to drive him to Miami because he has a ride with his girlfriend ….. Wait for it ……. Wait or it ….. VIRGINIA.
Listen. This girl has got to be the greenest chick on the planet. She's greener than the baby Gamora would have if she slept with Hulk. I am starting to think she wants to die, seriously. She's asking for Desna to chop her in the throat. There are a number of reasons that this is a bad idea, but chief among them is the consideration of Dean's feelings if/when Virginia tells him she doesn't want him in the same way that he desires her. *rubs bridge of my nose in frustration*
Of course as soon as Desna gets to the shop and sees Virginia she is ready to hem her ass ALL the way up. She deserves it. Little Miss Clap Back, is telling Desna that she thinks Dean can handle himself more than Desna gives him credit for. If you don't shut yo ….. Let me calm down. I'm upset like Dean is my brother. Chile why does common sense hide from her? Why is she so simple? I want her to be better. It takes Miss Ann and Little Polly Pocket to keep Desna from putting Virginia to sleep, for good. You know who's missing from this entire mele, Jenn! Why, because Jenny not from the block done called out sick. Again.
We know Jenn ain't sick because back in the new mansion, that came with more strings that Pinocchio before he became a real boy, she is tryna get Bryce to skip work and stay home. I just want to let out a big obnoxious ass laugh right here. The only two people dumber than Virginia is Brynnifer. Jenn really believed that this house wasn't just a pawn to draw Bryce in closer to Uncle Daddy. Well bless her lil heart. Bless her whole heart. Girl, ya husband tried to turn it down, but nah ya offspring needed to be able to sing on key. Welp. Bryce tells her he's going to work and Jenn has about had it with everybody. So of course she calls Hank so they can do-si-do. Side note: is Hank Jewish? As if her calling a man for real life do-si-do which is not a euphemism for sex isn't just quite strange enough. I don't even know what the hell.
Desna just happens to drop by while not so sick Jenn is getting her dance on, thanks to a little tip she received from Toby. He messy. Jenn does not look the least bit enthused to see her friend and in fact, girlfriend is a bit standoffish. Can we also talk about how Jenn is swimming in designer shopping bags; evidence from all the shopping she's been doing with the money Bryce is bringing in from the clinic. Back on task, Desna genuinely wants to know what's going on with Jenn, but what she doesn't know is that Dean let Jenn know that the Coombs' were she and Dean's foster parents. Jenn thinks she knows the whole story and has figured out that Desna killed Roller and framed some innocent people; the Coombs'. Not quite girl.
Jenn quits the salon. Says she's out, for good. Damn. Homie. It's always something with Desna. So we catch up to Little Polly Pocket and she has some youngin with her. This girl wandered into the shop because she says her mom got busted and is in jail. The child looks to be about 15 or 16. There should really be a no-contact provision on Polly for children who are impressionable. Little Polly Pocket starts this ridiculous slang/accent thing, I cocked my head all the way to the side wondering who or what the hell she supposed to be now? Seriously, does she have a notebook or keep track of all these personalities in her phone? This is dissertation level code switching. I can't even keep up no mo. Polly is literally Jaqen H'ghar, a girl has no name and many faces.
Moving right along, Desna goes to see Uncle Daddy but he's in a really bad mood, so she knows now isn't the time to ask to be out of the business. He's upset because he was planning a vowel renewal ceremony for his anniversary but the planner has cancelled because of a fire. Desna offers to help him make the party happen if she can talk to him later. He of course accepts but says that the theme is Gone With The Wind. Eye. Hate. Him.
Over in a nice park, Miss Ann is having a lovely picnic with Detective Branch who seems to hint that she wants a lot more than just sex. In fact she says, "I need to know more about you than how you liked your p***y licked." CHILE. KSJDFKJDHKFJADSJFNAKJ. Wow. Despite the fact that she's a detective, I like her. Straight to the point. Miss Ann this is quite an upgrade from the pasty face desperate housewife who couldn't take no for an answer. Also shout out to Miss Ann's Bantu Knots. She stay changing it up.
At the clinic, Bryce and Clay are giving a tour to some ugly redneck looking guys when Desna walks in to give Clay an update about the party later that night. The men say if they agree to come on, they want Desna to be apart of their organization as well. Clearly, this is NOT at all what Desna had in her 5 year plan nor on her vision board. Clay "INSISTS" that she attend the party later that night, and I am wondering if he forgot what the hell his theme is. Boy.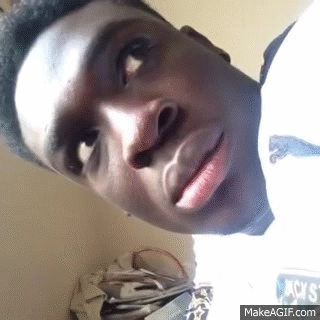 Meanwhile in South Beach, Dean and Little Miss Please Let Me Love You aren't the only ones there. Roller has convinced his demented captor to go to South Beach to showcase her pubic hair sculpture. *gag* Before Virginia and Dean have a chance to run into them, we finally learn exactly what Dean is showcasing. Apparently, he's one of the numerous nude male canvasses that are showcasing their bodies as art. In the preview, the artist who put together the project requests that Dean and the others disrobe so he can see what he's working with. When Dean's robe drops so does everyone's jaws. Dean has that thunder down under, that hammer, a lil baby leg and Virginia looking like she's fully invested in making bad decisions.
Dean and Virginia head back to the room and dummy is so dickmatized that she all but pounces on Dean. He really didn't stand a chance once she saw it. After they've romped she gives him some speech about not looking for a boyfriend right now and Dean AIN'T hearing it. I would say, we told you so, but y'all know Virginia is literally incapable of listening. I know traditionally graves are six feet down, but I am quite sure that Virginia has dug herself a 12 feet hole. Boooooyyyyyyyyyyyyyyyy when Desna find out they've had sex …. No, it's too gruesome to imagine. She gone kill her.
Virginia and Dean don't make it out of South Beach before spotting Roller attempting to run away from his Lunatic Lusting Lover. This is bad because not only does Virginia AND DEAN spot Roller, but Roller sees Virginia. Y'all know how hard we been struggling to get Virginia to keep her shit together, lawd now we really gone have to babysit her. As Roller is running for his life from his disturbed damsel, he so ungrateful-she saved his damn life, those sneaky Russians grab him and put him in the back of a van. Hmmmm I wonder what they are planning to do with him. Might be leverage against Uncle Daddy.
Speaking of Uncle Daddy, this Gone With the Wind themed trash of an anniversary party is a hott ass mess and I just want to yell to everyone there : THE SOUTH LOST, GET OVER IT. But this might not be the right time.
Besides this party has enough drama. Jenn is sick of pretending and tells Desna in front of Polly and Miss Ann, that she knows that she killed Roller and then set up the Coombs' for his murder. Jenn then has a dumb ass idea and says that she might just tell Bryce and Uncle Daddy the truth tonight. Luckily Miss Ann is there and she has Jenn by the neck choking her into reconsideration. Lawd, this is ALL TOO DAMN MUCH. What about your friends by TLC is playing in my head while Miss Ann is choking her out. I know. I can't help it.
Desna finally fully explains everything that happened on the day that Roller was killed and how the Coombs' were terrible people. She begs for forgiveness and Jenn just doesn't have it in her right now. They all so dysfunctional. Bryce at the party snorting coke off a turtle, an actual turtle and I am convinced none of these people like nice things. Not a single one. They. Just. Don't.


The only good thing to come out of this trash ass party is that Uncle Daddy agrees to let his boo Toby with the Titties run the clinic, and Desna is OUT. I will believe it when I see it. Ignore my skepticism. Celebrate a little. Only a smidge doe, because y'all know Clay slicker than a can of oil.
For now, it seems the secret about Desna and Virginia murdering Roller is safe. But with Roller newly kidnapped and Jenn knowing Desna "killed him," Desna might want to go get her passport. Between the therapy turtle, pubic hair sculptures, Virginia sleeping with Dean, and everything in between, this was some weird shit. I have a feeling we are only getting started…..
What y'all think about this week? See you next week!
Ashley is a lawyer by day and a television, social media enthusiast by night. Catch her on twitter spreading black girl magic. 
Twitter: @luvthispayne