Tessa Dare kicks off her new historical romance series, Girl Meets Duke with the witty and romantic The Duchess Deal!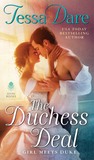 The Duchess Deal by Tessa Dare
Funmbi's rating: 4 of 5 stars
[For Mature Audiences; Some Spoilers]
We adore Tessa Dare and her beautiful romance novels. It's no shock that we practically tripped over ourselves to get our hands on the first novel in her new series. *sigh* The Duchess Deal is signature Tessa Dare romantic comedy. We laugh and swoon as we watch two seemingly opposed characters come together, heal past hurts, and fall in love.
A few years ago, Lord George Pembrooke, Duke of Ashbury returns from war (Battle of Waterloo) severely injured. In fact, the injury leaves one side of his body totally scarred and disfigured. Ash heals, but unfortunately, it isn't enough to keep his fiancee. Miss Annabelle Worthing is so disgusted, that she jilts Ash, despite his title and wealth. Ash is angry, resentful, but seems to believe that any woman would run away from him. Yet, he needs a wife purely for the purpose of bearing him an heir. There are a lot of people who rely on Ash, and he refuses to let the title go to distant cousins who will run his estates into the ground. Just as Ash is formulating a letter to his attorney, Miss Emma Gladstone shows up on his doorstep, wearing a wedding gown. WHAT???
Emma is the seamstress who was sewing Annabelle's wedding gown and even though the wedding has been called off, Emma really needs to be paid. Ash is intrigued by Emma:
She was a great improvement on the gown.
Complexion: cream.
Lips: rose petals.
Lashes: sable.
Backbone: steel…

He regarded Emma Gladstone from a fresh angle, thinking of that list of requirements in his interrupted letter. She was young and healthy. She was educated. She came from gentry, and she was willing to disrobe in front of him. Most importantly, she was desperate. She'd do. In fact, she'd do very well indeed.
So, he comes up with a bargain–Ash will make Emma his duchess, and provide all the amenities that come along with the title. In exchange, she will give him her nights for the purpose of getting her pregnant. There will be no romance, no kisses, and once Emma is pregnant, she will move to the country to raise their child.
Emma is shocked by the proposal. First, she thinks Ash is making a joke at her expense, then she thinks he's just looking for a mistress. But, Emma is also a realist in some senses. She knows her opportunities as a seamstress are limited and she would be insane to turn her back on becoming a Duchess. Emma makes some demands of her own, including dinner together every night and the right to call Ash some pretty ludicrous pet-names.
Over time, Ash and Emma get to know each other and even admire one another. Of course, this is helped along by their insane chemistry in the bedroom. Despite Ash's initial desire to keep things clinical, from the first encounter, he's overwhelmed with Emma's passion. But understandably, there are still issues of trust: Ash wonders, if opens himself up to Emma completely, would she eventually be disgusted and leave him? And Emma can't help but think that all Ash wants is a broodmare, not her for herself.
Emma, Ash, and their relationship are my favorite parts of The Duchess Deal. I love how straightforward Emma is, open and honest about herself and her expectations. She knows to rely on her own strength and abilities, but this doesn't mean that Emma is cynical. Despite being mistreated by her father and other men in her life, she believes in love and lust and isn't afraid to act upon her sexual desires. Similarly, Emma doesn't judge, and to the best of her ability, she will help others. Ash and her friends certainly benefit from this.
And Ash, darling Ash. Even though he's (understandably) angry and standoffish, Ash is also hilariously witty, which leads to some great tete-a-tete between him and Emma. Ash also has protective instincts that drive him to help others. Interestingly, this leads to a situation where Ash takes on a Batman-esque vigilante persona, as the Monster of Mayfair.
These two are really great together on so many levels. Emma and Ash force each other to take care of themselves and expand their horizons. This certainly applies to sexy times too:
"I . . ." She closed her eyes. "I want your cock."
He grunted with approval. "Then you shall have it. All of it."
He lifted her by the hips and slid into her, filling her with one blissful inch after another. She gripped the bedpost, pushing back against him until her thighs met his. He began to move in a slow, steady rhythm.
"Do you feel that?" His thrusts gained pace. "That's what you do to me. How hard you make me. I've been wanting this. Every time you've teased me, defied me, given me that arch little smile, I've wanted to bend you over and teach you a lesson."

She clutched the bedpost for balance as he drove into her, making her breasts sway with each thrust.

"I lived in the grip of laudanum. I know what it is to crave. To tremble with wanting, be ruled by need. It nearly destroyed me. This is worse. There's no respite. As soon as I leave your bed, I'm counting the hours until the next night."
He pulled her hips higher, forcing her to balance on her toes.
"Sometimes," he panted, "even in the middle of the day, I have to lock the library door and stroke my own cock, spending into a handkerchief like a randy youth. And it's still not enough. It's never enough."

…She felt his forehead rest against her shoulder, feverish and damp with sweat. He put one hand over hers on the bedpost, bracing his weight, and then reached with the other to touch her between her thighs. Circling his fingertips just where she needed it, just where he knew it would break her apart. All the while, he took her in forceful thrusts. It was animal and uncivilized and she was wild with arousal. Her body quivered as he drove her toward the most devastating orgasm of her life.

She couldn't hide from it, couldn't hold back. When the pleasure caught her, she came in racking, tearless sobs. She forgot where she was, who she was. But he hadn't kept his promise to tup her senseless. Not quite. Her awareness of him only heightened. She sensed the heat of his body, heard the harsh rasps of his breath, breathed the earthy musk of his skin, felt the iron length of his cock at the center of her.

"God," he choked out. "God. Emma."
A thrill shot through her as he called her name. Even in the mindless fury of joining, he hadn't forgotten her, either.
It's so wonderful to see a female character of this time embrace her sexual agency. Plus, Emma is sexually adventurous in a way that helps Ash to regain his confidence.
The Duchess Deal has great secondary characters. Emma's new friends are fun, and it looks like Lady Penelope Campion (animal rights activist), mad scientist/baked Nicola Teague, and clock enthusiast/engineer Alexandra Mountbatten will make up the rest of Tessa Dare's Girl Meets Duke Series. Trevor, Robin to Ash's Batman, is a really sweet and intelligent boy. And Ash's staff, led by Mr. Khan, are kind in their desire to see their Lord and Lady happy and in love, even if that means taking some unconventional (and hilarious) means.
If I am to offer critique, I'd say that there are several interesting secondary storylines that are opened up, but never really explored or resolved in a way fulfilling way. It's tough because, since this is the first book in a series, there's a lot of world-building to accomplish, especially to set up the rest of the books. But at the same time, the drama that the characters do experience feels overly contrived, while the storylines that have the most potential to make things interesting just fall by the wayside.
For example, the "resolution" between Emma and her father is barely that. Similarly, after the effort Annabelle Worthing expends to make Ash and Emma's lives difficult, it seems disingenuous that the three of them would sweep all the animosity and resentment under the rug as quickly as they do. Are we just to believe that Annabelle has been redeemed now?
Also, for the amount of time we spend with the storyline of Emma and her friend Davina Palmer in turmoil, the resolution is rushed at the end, and we don't get to see an actual conclusion.
Historical romance fans, you know Tessa Dare is one of our queens, so of course her latest novel, The Duchess Deal, is MUSTREAD. The novel is out TODAY, so wish Tessa Dare a Happy Book Birthday on Twitter, then add this to your TBR list and grab your copy today!
Goodreads | Amazon | Barnes & Noble
When girl meets Duke, their marriage breaks all the rules…

Since his return from war, the Duke of Ashbury's to-do list has been short and anything but sweet: brooding, glowering, menacing London ne'er-do-wells by night. Now there's a new item on the list. He needs an heir—which means he needs a wife. When Emma Gladstone, a vicar's daughter turned seamstress, appears in his library wearing a wedding gown, he decides on the spot that she'll do.

His terms are simple:
– They will be husband and wife by night only.
– No lights, no kissing.
– No questions about his battle scars.
– Last, and most importantly… Once she's pregnant with his heir, they need never share a bed again.

But Emma is no pushover. She has a few rules of her own:
– They will have dinner together every evening.
– With conversation.
– And unlimited teasing.
– Last, and most importantly… Once she's seen the man beneath the scars, he can't stop her from falling in love…
Many thanks to the publisher for an advanced review copy.